Made from high grade materials the Club Booster V2 is your next upgrade to improve your golf experience. No other product will improve your overall golf experience. Play better. Feel better. Enjoy your game like never before!

oPTIONAL tETHER fOLLOW sENSOR - tfs
The closest thing to having your own personal caddie. Simply snap into the magnetic connection and walk freely while the cart follows 6' behind you and stops 4' behind you. The connection is completely undetectable. The only thing you'll feel is freedom!
The new Detachable Battery Pack is 20% more powerful than our V1 battery and has several major advantages: 1) Detach the battery to charge, rather than carrying the entire unit with you to charge. 2) You can purchase an additional battery and play all day. The battery charges in less time than it takes to play 18, so play 24 hours a day, if you want! 3) When your battery has reached the end of its life, it is literally a snap to replace.
Okay, you're not going to need all 6 axes of the gyro, unless you are playing on the international space station, but you are definitely going to notice the difference here on earth. The gyro is so finely tuned that you can track a perfectly straight line on a side-hill with a swivel front wheel cart. The only veering off course you'll do is that dreaded pull-hook off the tee.
The name says it all. It will stop when you stop it. The V1 had a passive brake from the torque resistance of the motor; the V2 brake is electronic and it is not going anywhere!
Cruise control is hill speed control that keeps the Club Booster at a constant speed on both uphill and downhill treks.
- Encourages better health by walking versus riding.
- Feeling of freedom. Just walk without having to steer or push your cart.
- Still have the option of remote-control use when desired (i.e., sending you clubs to the next tee).
- Those who could not push or carry their clubs can now walk.
- Saves on riding cart rental fees. Can pay for itself in a year or less.
- Improves overall golf game by being more focus and connected.
- Golfers burn an average of 1,500 calories walking 18 holes.
- Makes for a better golf experience.
- Improves scoring over riding in a cart.
Warranty covers the unit, battery and charger of any manufacturing defects that occur during normal usage. Warranty is subject, but not limited to, the following exclusions:
1. Accidental damage, consumer misuse, abuse or neglect
2. Abnormal wear and tear
3. Rental or commercial use
4. Unauthorized modification to the product
5. Faulty repairs by consumer or unauthorized agent
6. Usage of an unauthorized 3rd party charger
7. Removal of, or defacing serial numbers
Proof of purchase, registration and product serial number are required for all warranty claims. Please call Alphard Golf USA, 833-539-1200, to identify and resolve the issue.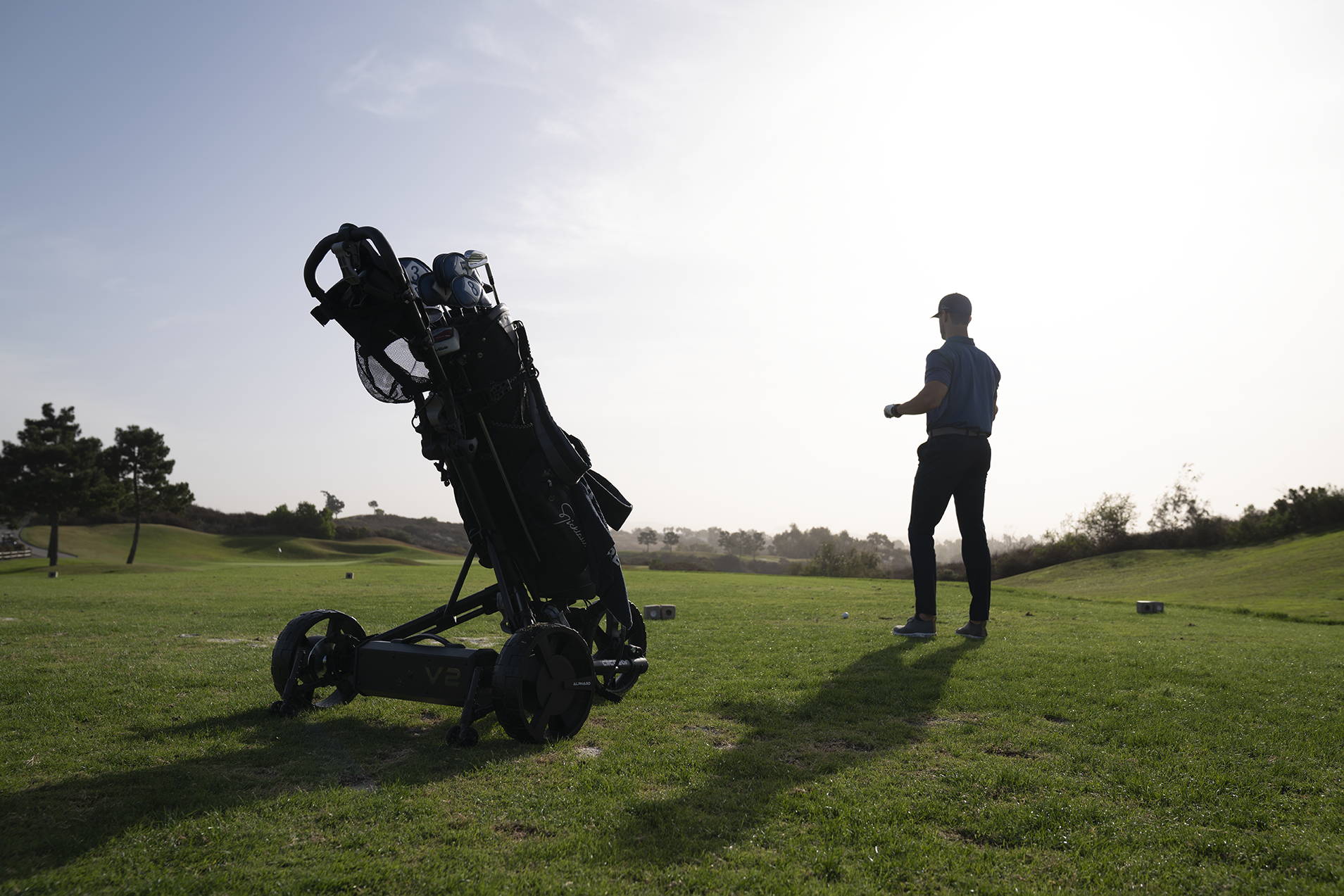 · Rechargeable Lithium-Ion Battery
· Keypad Lock: No more accidental button triggering
· Raised Buttons for Easier Identification
· 15-Yard & 30-Yard Pre-Sets
· Locking Remote Mount for Cart
· Smart Phone as Backup Remote
"Hands-down, this is the best golf-related purchase I've made to-date!!"
"This product changed the way I golf"
"I truly LOVE my Club Booster!!! Words cannot express how much it has changed my enjoyment of golf."
"Walking the course has never been better"
"I feel less tired at the end of the round. All golfers who enjoy walking should consider Club Booster."